Advancing Frailty Care in the Community Collaborative
The number of people, especially older adults, in Canada living with frailty1 is steadily growing. Currently there are more than 1.5 million people in Canada who are medically frail, and in 10 years this may rise to more than two million people.2 Frailty is linked to a higher reliance on healthcare resources.
While frailty may occur throughout a lifespan, a large proportion of those who are living with frailty are aged 65 years or over. We urgently need to utilize the tremendous opportunity to improve care and the quality of life for older adults living with frailty, as well as support their family/friend caregivers. 
The Canadian Foundation for Healthcare Improvement (CFHI – now Healthcare Excellence Canada) and the Canadian Frailty Network (CFN) launched the Advancing Frailty Care in the Community (AFCC) Collaborative in November 2019. 
AFCC supported healthcare teams from across Canada to adapt and implement evidence-informed innovations to improve the identification, assessment and management of frailty in primary care. 
How AFCC contributed to better healthcare in Canada
AFCC was part of CFHI's ongoing efforts to spread and scale proven innovations that deliver high quality care closer to home and the community. The innovations spread through this collaborative showed measurable progress in improving the health and wellbeing of older adults and advancing frailty care within primary care and home settings. 
Through this collaborative, CFHI and CFN aimed to: 
support 17 teams in the following core frailty intervention areas: 
Frailty Identification 
Geriatric Assessment 
Tailored Interventions 
Person and Family Centred-Care 
Collaborative Care 
Community Supports 
Quality Improvement (QI) and measurement 
improve the care and quality of life for older adults who are vulnerable to moderately frail (a score of 4 to 6 on the Clinical Frailty Scale or equivalent), and support their family/friend caregivers 
build QI capability and capacity among teams, particularly as they relate to implementing, spreading and sustaining frailty-related improvements.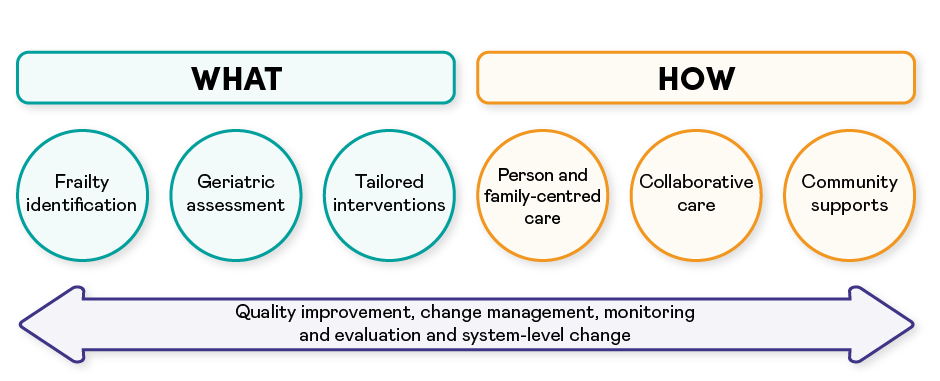 Throughout the collaborative, all teams regularly collected and submitted a mix of patient-reported, caregiver-reported and clinician-reported data based on the core frailty intervention areas. We expect final AFCC results to be available in late 2022. To check out the results when they are available, subscribe to our newsletter. 
The Approach
CFHI and CFN jointly contributed $1.2 million in seed funding to support 17 teams that implemented the AFCC frailty innovations in primary care and/or home care settings. 
Expert faculty and coaches supported teams to systematically identify and assess frailty in populations 75 years of age and over, and conduct opportunistic screening for those 65 years of age and over. For those identified as vulnerable, mildly or moderately frail, geriatric assessments were followed up with customized care plans (developed in partnership with patients and caregivers) to slow the progression of frailty, and maintain or enhance their quality of life. 
Teams adapted one of four of the top frailty innovations identified in the 2018 CFN Frailty Matters Innovation Showcase, as listed below, and designed their own frailty initiatives. 
AFCC teams enhanced their capacity and skills through the collaborative's curriculum, making the most of: 
regular interactive webinars that delved into relevant topics related to both practice change and QI 
in-person and virtual workshops that focused on peer-to-peer learning and knowledge development 
regular coaching calls with content experts that ensured a rapid pace for testing change 
online learning tools 
cross-team learning and networking opportunities. 
The Teams 
AFCC brought together 17 teams from across seven provinces. 
Meet the teams and their projects 
1 We refer to frailty as an individual's state of increased vulnerability resulting from reduced reserve and loss of function across multiple systems, reducing their ability to cope with normal or minor stressors.
2 Research on Aging, Policies, and Practices. (June 2018). A profile of caregivers of older adults (65+). Retrieved February 27, 2020 from: https://rapp.ualberta.ca/wp-content/uploads/sites/49/2018/09/Profile-of-Carers-of-Older-Adults-65-Infographic_2018-06-20.pdf
Related Resources
{{((sortOptions.length > 0 && currentSortOption > -1) ? sortOptions[currentSortOption] : param_sortText)}}
{{param_topicFilterText}}
{{param_allText}}
{{decodeURI(filterType.title).replaceAll('+', ' ').replaceAll('%26', '&')}}
{{param_howFilterText}}
{{param_allText}}
{{decodeURI(filterType.title).replaceAll('+', ' ').replaceAll('%26', '&')}}
{{param_resourceTypeFilterText}}
{{param_allText}}
{{decodeURI(filterType.title).replaceAll('+', ' ').replaceAll('%26', '&')}}
{{param_noEntriesMessage}}
{{currentEntry.friendlyTitle.length > 0 ? currentEntry.friendlyTitle : currentEntry.title}}
{{param_topicText}} {{decodeURI(currentEntry.taxonomyList[0]).replaceAll('+', ' ').replaceAll('%26', '&')}}
{{param_publicationDateText}} {{formatPublicationDate(currentEntry.publicationDate)}}
←
{{currentP == null?'...':' ' + (currentP + 1) + ' '}}
/
→
{{((sortOptions.length > 0 && currentSortOption > -1) ? sortOptions[currentSortOption] : param_sortText)}}
{{param_topicFilterText}}
{{param_allText}}
{{decodeURI(filterType.title).replaceAll('+', ' ').replaceAll('%26', '&')}}
{{param_allText}}
{{decodeURI(filterType.title).replaceAll('+', ' ').replaceAll('%26', '&')}}
{{param_resourceTypeFilterText}}
{{param_allText}}
{{decodeURI(filterType.title).replaceAll('+', ' ').replaceAll('%26', '&')}}
{{param_noEntriesMessage}}
{{currentEntry.friendlyTitle.length > 0 ? currentEntry.friendlyTitle : currentEntry.title}}
{{param_topicText}} {{decodeURI(currentEntry.taxonomyList[0]).replaceAll('+', ' ').replaceAll('%26', '&')}}
{{param_publicationDateText}} {{formatPublicationDate(currentEntry.publicationDate)}}
←
{{currentP == null?'...':' ' + (currentP + 1) + ' '}}
/
→